Draw a cube with colored pencils
4) Step-by-step instructions - cube
In this short step-by-step instruction, I willdescribe the basic way of drawing a picture with colored pencils. The exercise will help you learning to draw with colored pencils. The drawing object will be a simple cube, as it is fast and easy to draw and it will demonstrate the technique of drawing shadows quite good.
a) First, I'm always drawing a very small sketch to get an idea of how the picture will look like later.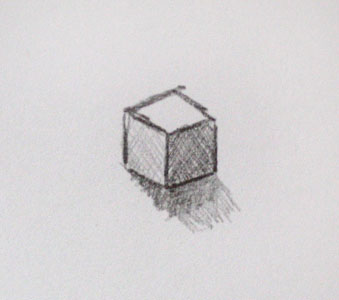 b) Then I'm drawing the outlines and edges of the cube with a pencil on the drawingpaper. Don't imprint to strong, otherwise deep wrinkles will remain in the paper. As the outlines should not be visible later, I'm erasing it as far away that they are hardly perceivable.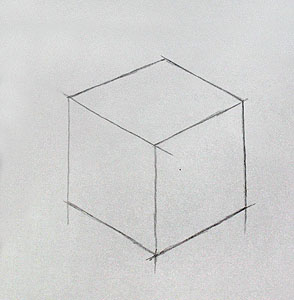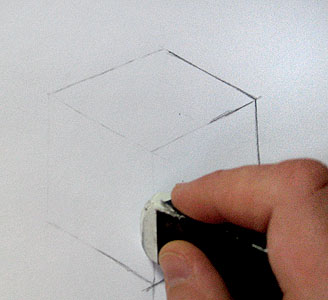 c) Now, I'm drawing the outlines with the colored pencils, in the color of the cube. I'm drawing the lower edges allready with a black pencil.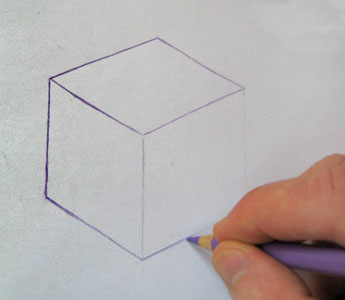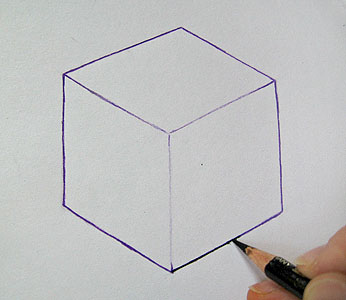 d) On the left side of the cube I'm drawing with a black pencil a slight shadow. If you want to you can use a eraser pen to make the gray shadow more regular. As the cube will be colored I'm drawing the shadow only slightly. If the color is drawn to strong on the paper the area is sealed in a way and the color of an other pencil can barely be drawn over this area.
I even made a video of drawing the cubes shadow. You can find it at Google Video under this link: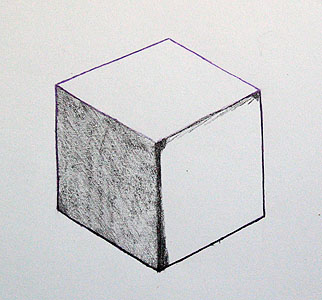 e) The shadows on the right side will get darker, but again I'm drawing the color still not to strong on the paper (can tell it from the small white spots in the color space).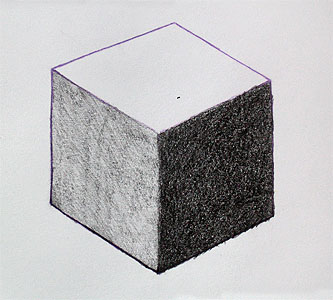 f) As the shadow of the cube is gray, it could be drawn directly with a gray pencil. For this picture I'm using only the black pencil for the shadow. But in compensation I'm making the shadow smoother with an eraser pen.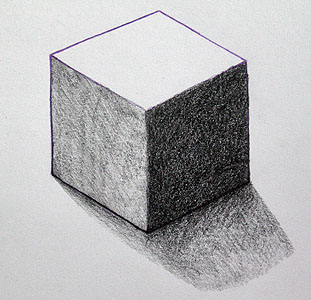 g) Now a colored pencil comes into play. With a purple pen I'm starting to fill the brighter side of the cube. I'm doing small strokes, so that the black color of the shadow will be properly blended and levigated. Thus you get a more uniform color space. I'm doing the same at the right side of the cube.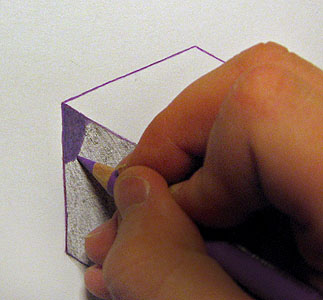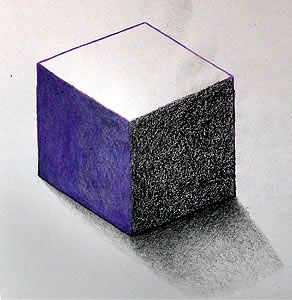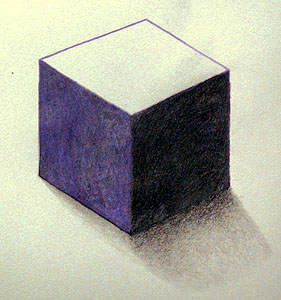 h) The upper side of the cube will be bright, brighter than the hue of my pencil. Therefore I'm filling the area only slightly with color and editing it again with the eraser pen. To get a glossy and complete surface, I'm drawing over the whole area with a white colored pencil.
Done! It's that easy to learn to draw with colored pencils ;-) .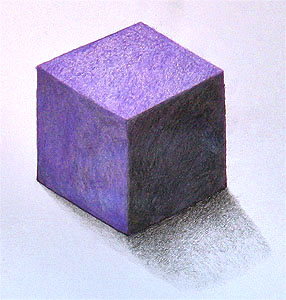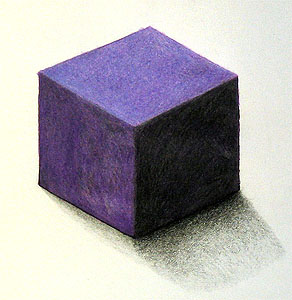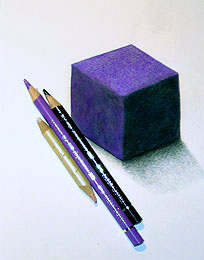 The end!